A story of quitting on the way to the top
Ipswich, Queensland – 1996. Ashleigh Barty is born to an indigenous dad and a mother with English descendancy. Humble beginnings served Ash well, and her attitude was old school right from the start. She opted for tennis instead of netball as a child because, in her words "netball is a girls sport". Ash rapidly became a gun tennis player winning the Wimbledon Juniors title at age 15.
Next step – the Pro's. Ash would spend the next two years earning every start to every tournament she played in. Eventually Ash would experience some success in the doubles game more than singles. Ranked outside the top 200 in the world, Ash then made a decision… she quit.
"it was too much too quickly for me as I've been travelling from quite a young age… I wanted to experience life as a normal teenaged girl and have some normal experiences."
Ash had a chat to some cricket administrators about trialling for a new WBBL (Womens Big Bash League) concept. Unlike others that tried to cross over from different sports, Ash had the goods and was signed up for the Brisbane Heat's inaugural season.
After two years hiatus, Ash decided to return to tennis in 2016. Starting from the bottom again, she would compete well straight away. Ash was now ready to take on the challenge of the Pro Tour. In 2017, The Malaysian Open becomes her first Top Tier (WTA) Singles Title, followed by a string of successes in the doubles game.
In a world of big personalities and brands like Serena Williams and Maria Sharapova, Ash is unnoticeable. Almost invisible on the world stage. In Australia, the antics of Nick Kyrios get 100 times more column space in the papers than Ash. But like a skilled ninja she operates in the shadows slowly but surely working her way up the world rankings.
As Ernest Hemmingway once said, "everything in life happens gradually, and then suddenly".
Boom – Ash Barty is the 2019 French Open Singles Champion. Ash Barty is the world ranked number two player in the world. Aged 23 years old. But she is not just a Major Winner. She is a force to be reckoned with. Her game is tight. She is strong, skillful, and strategic.
What a story.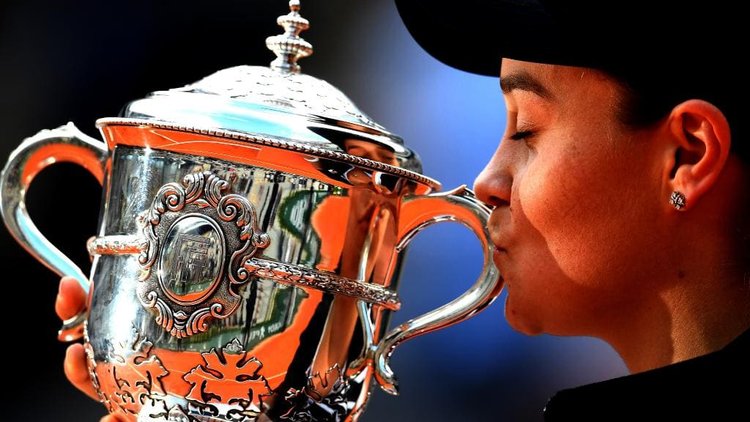 But, for me, this is a story of quitting. Ash taught us that we are all allowed to quit, but we can never give up on our ultimate goal. Ash never stopped being a professional tennis player, she just took some time out from playing tennis.
Angela Duckworth writes about the power of 'never giving up' in her book Grit.
ne of the building blocks of grit, or Tenacity as I put it, is the practice of committing to something hard. Duckworth's rules are:
You need to have one hard thing to practice regularly.
You can quit, but only at a natural stopping point that is designated at the start.
You choose your own.
Thank you Ashleigh Barty for teaching us about the power of quitting while never giving up.   
This article first appeared on https://www.paulfarina.com.au